A tour of Takamori Town
Takamori is a small town of just over 7000 people and is located in the easternmost point of Kumamoto Prefecture (about an hour and a half's drive from Kumamoto City). It is nestled on the southern side of one of the world's largest volcanic caldera rings and has a beautiful aspect of Nekodake, one of the five peaks of Mt Aso (the others being Takadake, Nakadake, Kishimadake and Eboshidake). Imagine having this view from your bedroom window when you wake up on a crisp winter's morning. On a clear day, you can see as far as the smoking mountain peak of Nakadake, the active sulphurous crater. Sometimes a ring of mist rises up slowly from the valley to create 'unkai' (雲海). The mountains appear to be floating on a cloud and it is said to look like a sleeping Buddha from the north face.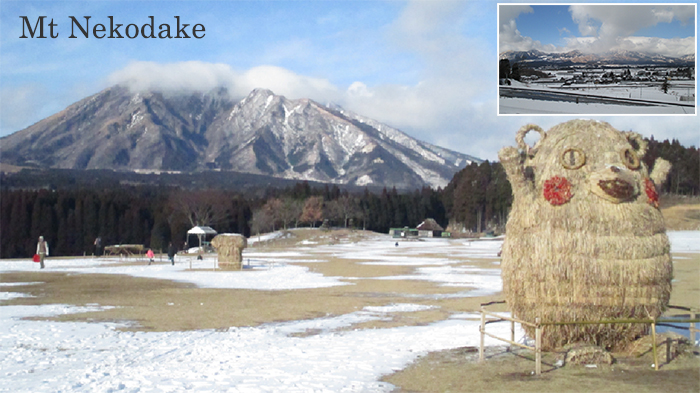 Takamori is on the border of Miyazaki Prefecture and Oita Prefecture so it is only an hour and a half's drive to the south-east to get to some amazing surfing beaches, and to the north-east, to relax in Beppu's natural onsen hot springs. Kurokawa onsen resort in the north of Aso (Minamioguni) is also reachable within an hour's drive so you can spend your weekends relaxing in a 'rotenburo' (露天風呂 – open air hot bath). However, Takamori also boasts of having some great onsens in town such as 'Tsukimawari Onsen' (月廻り温泉) where you can lean back in the steaming rock pool and take in the entire peak of Nekodake. 'Takamori Onsen-kan' (高森温泉館) is a popular bath where you might have a chat to the locals and buy some local souvenirs and agricultural produce.
There are many mountain 'sakura' dotted on the hills but the most popular spot for 'hanami' (flower viewing parties where you can drink 'sake' and eat under the dropping petals of the trees) is '千本桜'which translates as 'one thousand cherry blossom trees' because of the orchard-like array of trees meandering up the hill overlooking the town (as depicted in this evening shot, photograph courtesy of Soh Hisanaga who owns a chiffon cake café inside the Minamiaso Choyo Station).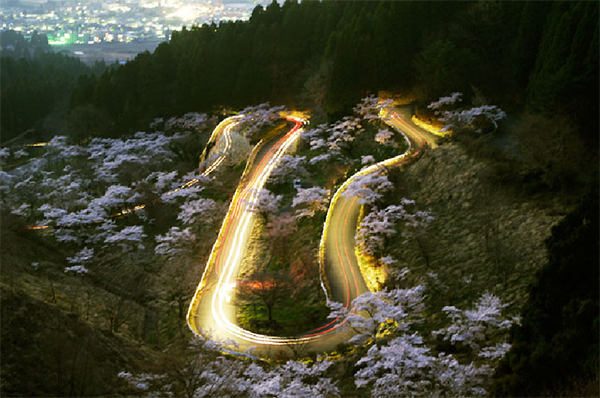 Takamori hills flourish in spring with wild edible plants. A local past time is to go picking all different kinds of shoots for tempura and miso soup. Rice planting and harvesting is a very important agricultural industry in this town. The rice paddies come alive with the chorus of tiny green frogs and the stalks of rice make a pleasant swishing sound in the warm breeze as it whips across the valley.
Rainy season in June brings many hues of blue, purple and pink with hydrangeas while cosmos are a sign of autumn approaching in October.a local market for their work.
The pace of life in Takamori is very much entwined with nature and the seasons. There are quite a few festivals that depict this and reflect the close community-feel of the town. For example 'dondoya'- burning of bamboo and decorations to bring in the New Year. However, everyone is out on the streets in the heat of summer for the largest matsuri of the year 'Fuchinsai' (August 17th -18th, timed well for the period of the artist's stay). Family, businesses, volunteers and sporting groups make huge floats from recycled goods for the parade. There are also traditional 'niwaka' comedy acts that go door-to-door. Takoyaki (octopus balls), yakitori (chicken kebabs), okonomiyaki (savoury pancakes), yakisoba (fried noodles) and all the other popular festival foods are sold at the stalls lining the pavements downtown.
There are a lot of hidden treasures in Takamori…remote places you can wander and find a peaceful place to reflect on art and life. Up in the mountains of East Takamori you will find a mysterious artwork, an giant tree house that appears to be deserted but if you keep a close eye on it and monitor it over time, you will notice that it is a piece in progress with new bits of oddly shaped wood added every now and then.
Another adventure in the magical forests of Takamori is to visit the giant cedar tree. Not such a well-known spot so you can find yourself alone under a canopy of massive trees with only the sounds of nature surrounding you. Occasionally the cows clamber down into this nook in the hillside to take refuge from the rain or snow in winter.
Even Kumamon has made his way up into the mountains of Takamori…
Wildlife is in abundance in Takamori…monkeys come down from the mountains in their troops to steal vegetables from local farmer's crops. You may even get a glimpse of shy deer, tanuki (raccoon dogs), wild boar and peasants.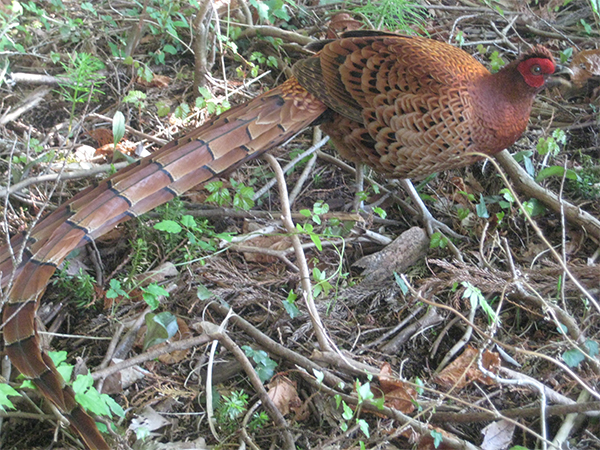 You will find lots of hidden temples. There is a temple where you can practice 'zen' meditation called 'ganzozenji' (含蔵寺).
If you muster up an appetite, there is a lot to eat in Takamori. Local specialties include traditional 'dengaku' (田楽) which are skewers of mountain potato, konnyaku and tofu roasted on an open fire and smeared with thick black miso paste, a simple but tasty combination. Takamori also has the best 'jidori' roasted chicken in the area. You can find many izakayas and restaurants about town. The centre of town revolves around the local sake brewery called 'reizan'. It is not only famous in Takamori, but all over Kyushu. The local minamiaso train running from Takamori to Tateno, offers a taste-testing ride where you can enjoy the scenery while getting a little bit intoxicated. It might be worth mentioning here that there is an open air 'トロッコ'torokko train on weekends that allows you to take in the sights of the southern caldera.
I haven't even touched on the more touristy spots of Takamori (e.g. Yusui Tunnel with an amazing strobe light water droplet waterfall) but hopefully one can get a feel for what the town atmosphere is like and a picture tells a thousand words. Any artist would love to be immersed in the community here because there are many local artists in woodwork, jewellery, tapestry, photography and painting (on one of the back roads a tiny house has been transferred into a hidden art gallery). There is so much to discover by just walking around town. Or you can head to the 'Folk School' where most of these artists gather on weekends to set up a local market for their work.
Written By Xina Hudson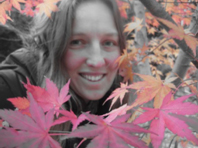 Xina Hudson lived in Takamori for about 4 years out of the total 9 years she spent in Aso. She currently lives in the neighbouring prefecture of Oita but still calls Aso her Japanese 'home' and spends most of her weekends there. She taught English at many of the schools in the area as well as conversational classes to the local community. She loved spending her free-time swimming in hidden waterfalls, relaxing at local cafes and onsens, and doing yoga.
Residence
Ateller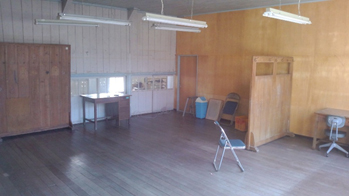 MAP